Skip Navigation
Website Accessibility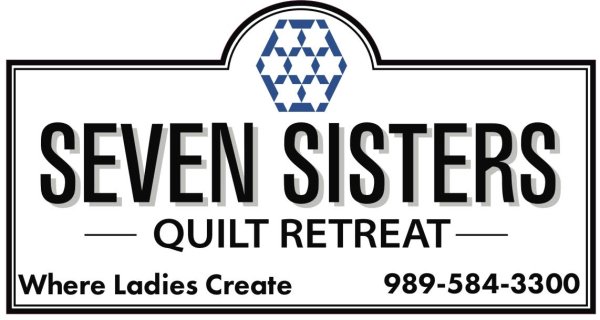 OPENING SOON!
Seven Sisters Quilt Retreat
110 Seventh St
Carson City, MI 48811
#989-584-3300

Seven Sisters Quilt Retreat will be opening soon!
We will be sharing photos for each area as it becomes finished.


Seven Sisters Quilt Retreat is located
on the corner of M57 and Seventh Street,
just a half mile east of Seven Sisters Quilt Shop.

The retreat can comfortably accommodate
up to 20 guests at one time.

Quilters will be delighted with
the modern and up to date decor and
the very convenient and spacious areas of the retreat.

Bring your friends and enjoy time away from home
sewing, laughing, eating and shopping at
Seven Sisters Quilt Shop!

The retreat is all on one level with an entrance ramp
for easily hauling in rolling luggage and sewing machine trolleys.





KITCHEN
The full kitchen is complete with necessary appliances:
refrigerator, stove, dishwasher, microwave and toaster.

It is fully stocked with place settings, and silverware,
pots and pans, mixing bowls, baking sheets and crock pots.

Quilters are welcome to bring food and prepare meals during their stay.


COFFEE BAR
A coffee bar holds two (14) cup coffee makers, an electric water kettle and a Keurig.
Coffee, tea and K-Cups are available.


BREAKFAST
A continental breakfast is provided
for guests to help themselves at their convenience.

Four bar stools are at the kitchen counter
and several small bistro tables are nearby
for guests to enjoy breakfast and other meals
away from their sewing area if they wish.


LOUNGE AREA
Quilters will enjoy this area when they wish to step away
from a project and relax a bit in comfortable furniture.

There is plenty of lighting for hand stitching or reading, etc.


SEWING ROOM
The well-lit sewing area has comfortable, height adjustable, rolling sewing chairs,
sturdy sewing tables and in-floor electrical outlets.

Small, portable tables are provided for
personal ironing stations and/or additional table space.


BATHROOMS


Three full bathrooms are complete with walk-in showers,




bath towels and wash cloths, shampoo, conditioner and shower soap.



There is also a lovely little half-bath available for additional convenience.



GUEST ROOMS
Guest rooms are fully furnished with comfortable bedding,
bedside lamps and ample electricity.

There are 5 guest rooms, with 4 twin beds in each.
Each room is pleasantly arranged and tastefully decorated
for quilters comfort and enjoyment.

All rooms are shared rooms.
No private rooms.


BOOKING
Quilting groups are welcome to book a private retreat
with a minimum of 15 guests.

Individual quilters booking a retreat stay
may wish to invite fellow quilting friends to join them and share a room,


as there are no private rooms.



If this isn't possible, please understand you may be sharing a room
with others who are not part of a group.

Quilters really are such pleasant people.
You just may meet your new best friend here!



DINING IN TOWN

Muffin Top
(Bakery, Soups, Salads, Sandwiches)
Monday - Friday
7:00am - 4:00pm
(Delivery)

Carson City Pub
Open Everyday at 11:00am

Rusty Nail
Open Weekdays at 8:00am
Weekends at 7:00am

McDonalds
Subway
Mancino's (seasonal)


Keep in touch,
more info coming!











It was twenty years ago,
(before Seven Sisters Quilt Shop was even born)
when Rachel and Katie hosted
their first ever quilt retreat.

They formally invited the sisters,
sisters of the sisters-in-law
to Katie's house for the weekend.

The bedrooms were all shiny clean
and decorated with cozy sweetness,

the recreation room became a

and the kitchen became a
steamy and bustling work space
with delicious aromas drifting
throughout the house.


That was the first of several quilt retreats
that happened every year or two,
creating some of the best memories
the sisters have made together.


Rachel and Katie are thrilled to be able to
offer quilt retreat experiences to
quilters everywhere who wish to
enjoy special times with friends
getting together with great projects.


Come be a part of the fun!